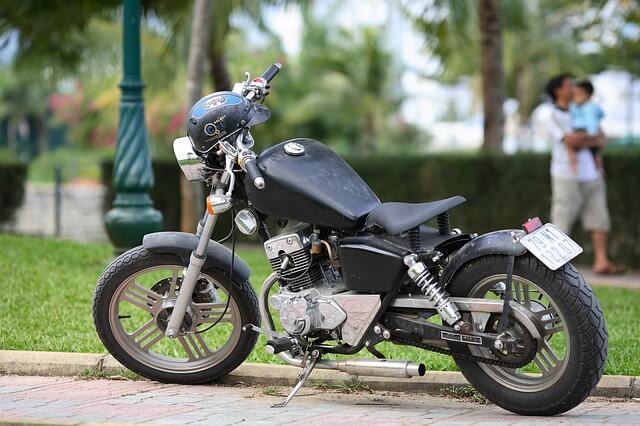 Storing motorcycle outside requires care and attention to avoid your expensive vehicle from theft and other damages.

Unfortunately, not every rider owns a well-ventilated garage.

To store your motorcycle without any worries, there are useful tips for storing motorcycle outside.

If you want greater protection of your valuable vehicle, there are different ways of storing motorcycle outside.
Five Reasons to Store Your Motorcycle Outside in Winter
There are certain reasons why riders store their motorcycles in winter.
Storing the bike outside can affect different components in cold conditions.
To prevent problems with your bike, I am going to provide you with five reasons you need to store your motorcycle in winter.
These reasons will help you to know how to store motorcycle for winter.
Prevent Rust
Storing a motorcycle outside in the snow would cause a buildup of rust. The rust forms when the salt from slow ploughs and long exposures of ice on a motorcycle rests on the chrome. This exposure to ice and salt forms rust. If you leave it in the cold for long durations, it will eat away such components like exhaust pipe, forks, mirrors and wheel spokes. To prevent this from happening, you need to store your bike indoors and shield it with a motorcycle cover to stop moisture buildup in freezing condition.

Risking a Dead Battery
When the bike stores outside in winter, the battery become low. This results in battery drainage. To prevent risking the dead battery is to store your bike indoors where you can charge your motorcycle battery. Even if you have not ridden your bike in ages, the bike will suffer a dead battery. Keeping your battery charged will help to maintain your bike in its best condition.
Keeping Your Ride Clean
When storing your motorcycle outside, the bike covers various residues such as snow, dirt, dust, mud, leaves and bugs. These residues can make your ride dirty. To keep your bike clean is to store your bike indoors from protecting vandalism and debris. City riders' needs to be extra careful as thieves try to target a specific spare part. Or just simply collapsing the vehicle and breaking off the components. Make sure you give your bike a good wash before storing indoors. To maintain the lifespan is to keep your bike clean.
Depreciated Value
If you have parked your bike outside in the cold, the bike loses its value quickly due to the conditions the bike has been through and the buildup of debris. To simply increase the value of your motorcycle is to store your bike indoors from the freezing weather.
Lowering Insurance Rates
The greatest reason you need to store your motorcycle in winter is for lowering insurance rates. If you tell your motorcycle insurance carrier that, you store your bike indoors. You will receive greater discounts on your insurance rates. This helps to save your money by providing a roof for your bike. Having low insurance rater benefits from spending extra money on repairing damages in the snow.
9 Ways – How to Store Motorcycle Outside
Storing motorcycle outside needs careful protection to prevent any sort of damage.
To keep your bike secure, there are different ways to know how to store a motorcycle without a garage.
If you want to store your bike outside without the fear of theft, there are useful tips to follow.
The useful tips mentioned below:
1) Park Your Motorcycle Outside Without a Garage
Parking your motorcycle outside is the easiest solution if you do not have a well-ventilated garage. Cars and boats can expose well to the weather, but motorcycles need extra protection that can cause damage. To store your motorcycle outside is to monitor the weather patterns in your area and protect your motorcycle by parking the area correctly. If you live in a city, you need to be careful where you park your bike outside. You should know how to park your motorcycle outside.
2) Use a Motorcycle Cover
A motorcycle cover is the easiest protection from any elements that would prevent damage to your valuable vehicle. When considering a cover, look for a cover that resists from all-weather conditions, UV light and provides full coverage to your bike. The cover must resist wind and ventilated to avoid damage while covered to your bike. When using a cover for your motorcycle, do look for a heavy-duty shield without any logo of the manufacturer. This helps to avoid the thief knowing what is underneath the cover.
3) Use a Portable Motorcycle Garage
Using a portable motorcycle garage is a great way to shelter your vehicle from extreme elements. A portable motorcycle gear allows your bike to 'breathe' underneath the cover and does not touch the vehicle. If you plan to use a portable motorcycle garage, you need to consider the space for your house and the size of your motorcycle. Be sure the portable garage accommodates the space of your house.
4) Store Your Bike in a Carport
If using a portable garage is inconvenient, you can go for a carport. A carport is a straightforward option if you are unable to store your bike in a portable garage. Using a carport may only expose three or four sides, which assume your house is on the fourth side. Because of the partial weather exposure, you need to think about whether you want to use a motorcycle cover or not. To store your motorcycle safely is to go for a carport.
5) Ask a Friend or Family Member's Garage
If you have a friend or a family member that owns a garage, you should consider making a kind offering to rent some space for your bike. If money is an issue, then you need to make some form of trade to rent the space.
6) Use a Garden Shed
Storing motorcycle outside requires a few tools, sufficient space and some money to make a garden shed. Storing the bike in a garden shed is a good option if you have an open space to build outdoors. Garden sheds require several dollars but do not need the cost of renting a space. If you want to build a garden shed, you need to do some research by visiting a home retailer and take some pictures. Then look at different designs and build the shed yourself. If you like to go for DIY hacks, nothing beats a greater idea than building a garden shed.
7) Store it in the House
Storing the bike in the house is one of the easiest solutions in which riders put their bikes through the doors. If your house has a room for the bike, this will give great protection to your house. The good thing about having a motorcycle inside the house that it is safe and you can keep an eye on a vehicle anytime. To store the bike in your house is to consider the space and the size of your bike. This will give you the idea of storing the bike in your house.
8) Put it in a Storage Unit
If storing motorcycle outside is inconvenient, using a storage unit is the best solution if you do not ride daily. A storage unit is a great place to keep your bike in until the next riding season. A storage unit only comes into consideration if you want to store your bike or storing the bike with other supplies in the unit. If you are planning to use a storage unit, you should go for a 5 x 10 inches unit. This size considered to fit your bike and other tools.
9) Buy an Old Van
Buying a second-hand van is a straightforward and creative solution to store your bike outside and you can always tow where you need to sit. Once you purchase an old van, you can acquire some motorcycle ramps and there you have it! You can shed your motorcycle however you want to! If you have an old van or planning to one, this will make a great choice for storing motorcycle outside.
Tips for Long-Term Motorcycle Storage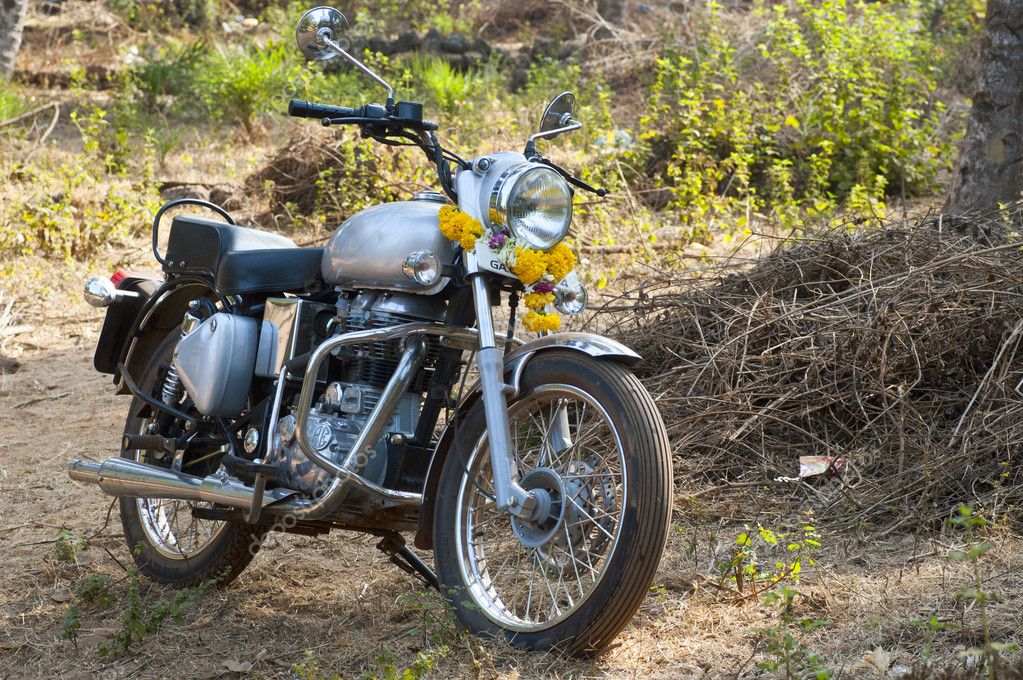 Having long-term storage involves some additional steps to take for ensuring the long-lasting durability of your motorcycle.
Whether you store your bike in the summer or winter, there are certain tips to take for ensuring long-term motorcycle storage. To last your motorcycle for months or a year, you should follow these important tips:
Wash Your Bike Before Storing
After the ride, your bike covers in grime and gunk. To keep your vehicle clean is to wash the entire chain gunk and any other hidden areas and wash thoroughly. Do make sure you dry your bike before storing it.
Lubricate Your Bike
It is important to lubricate your chain and apply anti-corrosion oils to any components that are susceptible to rusts. Condition your bike seat with a vinyl conditioner helps to prevent drying out while in storage. Good lubrication prevents moisture penetration and corrosion in extreme environments.
Fill in the Gas Tank
During the first few months, gasoline will start to deteriorate causing the gunk to build up. Once the gunk hits the carburettor, your engine will run into problems. To ensure long-term storage is to fill in the tank as full as possible and use a fuel stabilizer. This helps to keep the fuel fresh and prevents corrosion.
Tender the Battery
The battery needs careful attention when storing for a long period. To tender the battery is to remove the battery from the motorcycle and disconnect the terminals. Keep the battery plugged into a trickle charger to charge fully when not riding.
Drain the Carbs
If you have a fuel switch, you can drain the carbs dry. To drain the carb is to turn off the fuel and run the bike until the engine runs out of gas. This helps to prevent rusts from building up over time.
Plug the Exhaust Pipe
To stop tiny animals from making a comfortable home, you need to use a plastic or a rubber object to insert into the pipes. Tape does not help as mice will tear off the tape and will build moisture.
Protect Your Wheels
Tires can form flat spots if stored for long durations. To protect your wheels is to inflate the tires and find a good quality cover to ensure long-term protection. To ensure a long-lasting lifespan when storing motorcycle outside is to maintain the tires.
Conclusion
Storing motorcycle outside requires careful attention to prevent any damages to your bike. Not every rider owns a garage, the tips and guides help you to know how to store a motorcycle outdoors, without using a garage.
These tips and guides will help riders to ensure long-term protection from extreme elements without any worries to the valuable vehicle. If you want long-lasting protection, refer to the tips above for storing motorcycle outside.
So store your motorcycle safely and enjoy the ride!
For further protection of your bike, you can browse best motorcycle chain lubes, best motorcycle oils, best motorcycle locks and how to charge a motorcycle battery.