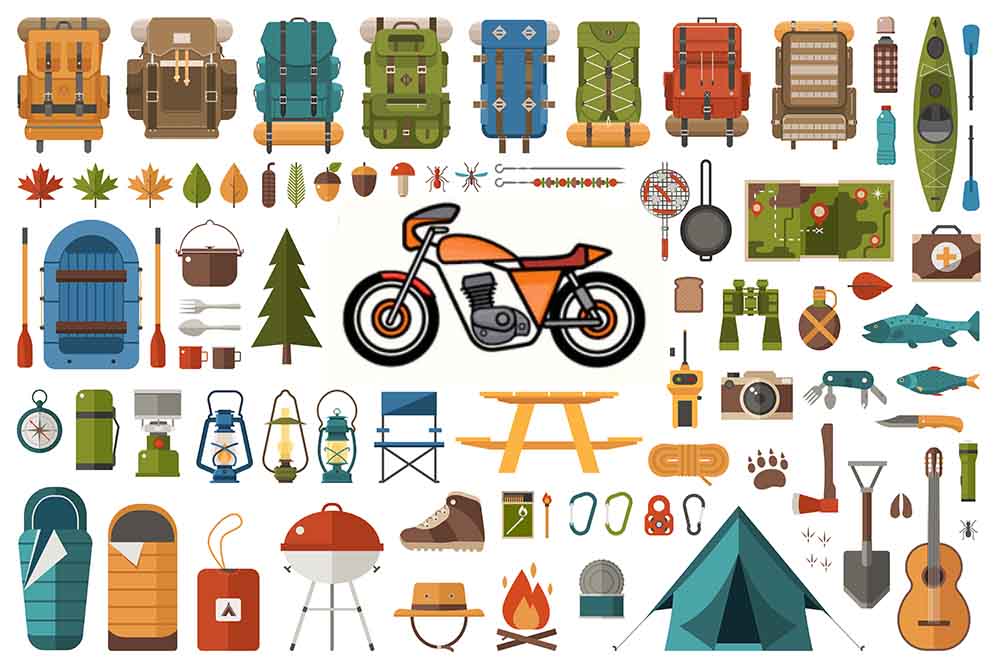 Camping is as much fun as motorcycle riding and requires preparing for the unexpected camp. Heading out for camping needs careful planning and attention to have all the essentials available.
To have all the items needed for your camping, it is time to create a checklist for a motorcycle camping gear list. It is important for every rider to have the appropriate gear equipment for enjoying your camp.
What do I need for motorcycle camping? To have fun and safe camping, you need to acquire a list of essentials to make your camping easier. This will allow you to have a complete guide on the motorcycle camping gear list.
Here, I am going to provide you with a complete motorcycle camping checklist. The list of items mention below:
Ultimate Motorcycle Camping Gear List Guide
Motorcycle Clothing
Helmet
Jacket and trousers
Gloves (summer and winter)
Neck tube/ scarf
Earplugs
Riding socks
Throw-over waterproofs
Heated jacket & controller (winter)
Cool vest (summer)
Personal Clothing
Lightweight down jacket (doubles up as bike thermal)
Thin trousers
Shorts
T-shirts
Underwear
Flip flops
Light and small trainers
Lightweight rain parka
Camp hat
Bathing suit (summer)
Sweater (winter)
Electronics
Mobile phone
Point and shoot camera
Travel iPod
GoPro stick
Set of memory cards
Adapter
Chargers and USB battery pack
Laptop/ Tablet
Removable hard drive
GPS tracker
USB with backups of important info
Camping
Sleeping bags for motorcycle camping
Foil blanket
Roll mat
Tent
Stove
Cooking equipment (including cutlery, washbowl, spices, utensils, fire starter, chopping board etc.)
Camp knife
Pillow
Head torch
Paracord
Shower bag
Towel
Sheet
Jag bag
Camping chairs
Ground mat
Tarpaulin
Luggage
Motorcycle soft panniers
Motorcycle hard panniers
Top box
Crash bar panniers
Toolbox
Roll up rucksack
Electronics bag
Packing cubes
Bag straps
Cargo net
Hygiene
Toothbrush
Toothpaste
Soap
Shower gel
Shampoo
Vaseline
First aid kit
Hand sanitizer
Mosquito repellent
Sun scream
Face mask
Paperwork
Passport and copies
Driver's license
Driver's permit
Vehicle registration document
Passport photographs
Bank cards
Accessible paper with information of all contacts
Spare bike key
Tools
Wrench
Socket set
Hex headset
Puncture repair kit
Air compressor/ gauge
Tyre levers
Wheel removal tools
Ratchet straps
Screwdriver
Multi-tools
Spanners
Cable ties
Tapes
Oils
Lubes
Spare parts
Security
Chain or lightweight motorcycle lock
Disc lock
Cable
Tracker
Motorcycle
Owner's manual available on the phone
Crash protection guide
Food and Water
Hydration bladder pack
Dry food snacks
Water purification stick or tablets
Miscellaneous
Fuel canisters
GPS navigation device
A map
Sunglasses
Motorcycle Camping Gear List Guide
You have the complete list of motorcycle camping essentials for going away from the city and enjoying the peaceful time of camping.
There are certain considerations to take care of before you head out to camp. Therefore, you must prepare for how to pack and what items to consider to ensure a complete motorcycle camping gear list.
Many riders asked how do I pack a motorcycle for camping. To pack the motorcycle for camping, there is complete motorcycle camping tips and equipment to help you pack your things easily.
Preparing for Motorcycle Camping
How Long You Plan to be Away
The duration of the camp is the first thing you need to consider as it directly affects what you need to pack. You must plan the duration of your camping days and the items you need. For instance, if you plan to camp say 3-5 days, you need to bring a couple of clothes and do laundry when you return.
If you plan to be away for more than one week, this is where you have to refer to the motorcycle camping gear list above. The long duration of the trip affects all-important items including registration documents, licenses and other important paperwork. As you need those important documents to ensure your vehicle insurance is up to date.
Besides, the number of clothes you take for a longer trip will consider doing laundry on the road. The best way to ensure a hassle-free camping trip is to plan the duration and think about how many items you need to take.
Where You Will Stay? What Do You Need to Pack?
The duration of the camp will affect the site you will stay. Are you planning to stay out in the wild? Do you prefer to stay at a flat campsite? These two questions must come into mind and do check the area you selected is secure and prepared for the camping gear.
To make your camping trip easier is to refer to the list above and pack the most essential items to take on the road. Do make sure you pack the things according to the duration of the trip you have planned. The more you plan, the easier it is to pack.
Did You Maintain Your Bike Fully?
To enjoy hassle-free compact camping gear for motorcycle camping is to maintain your bike. To maintain your bike is to check your tyres, the level of fuel, pressure gauge and the overall mechanic repair to make sure you are ready for the trip.
To maintain your bike fully is to take some extra spare parts or a toolbox in case of an emergency. If you have not done any inspection of your bike, now is the time! If you have not changed your tyres for a while, this is the best time to change.
The most important thing you need to do is to check that your bike registration, motorcycle's insurance, driver's license and permit are up-to-date. This will continue to be current throughout the trip. Do make sure you check the bike's important paperwork before you head out to the road. Make sure each component of your motorcycle has maintained for a long camping trip.
What Riding Gear You Should Wear Based on Climate and Weather?
To prepare for the journey is to monitor the weather and climate changes throughout the camping trip. The riding gear should withstand different weather conditions. To wear the riding gear appropriately is to have a look at the motorcycle camping gear list.
To have all the luggage ready is to monitor the weather conditions. If the weather is warm, you need to wear protective gear that has ventilation holes to pass the air in and out.
For preparing for mild temperatures, you need to wear certain gears that are waterproof and works in this certain environment. For cooler conditions, you must wear winter gears that keep your body warm at this time of weather.
Other protective gear must come into consideration such as gloves, pants and helmets to protect yourself from the crash. To do this is to refer to the motorcycle camping gear list above and do monitor the weather changes.
How to Pack Your Bags for Motorcycle Camping
Pay Careful Attention to Weight Distribution
Packing the bags are not the same as packing a suitcase and travelling to a city or country. When camping on a motorcycle, anything you take becomes an intimate part of the ride. To pack your bags for camping, you must pay close attention to the distribution of the weight.
To begin packing your bags, start with the heaviest items first. These items should go low on the bike and between the two wheels with the common spot in front of the rear tyre. They should pack evenly and distribute to each side of the bike to avoid uneven pull.
Lighter objects should pack higher up on the bike, behind the rider or passenger. These items will not affect the weight distribution of the bike. To distribute the weight evenly is to use a luggage rack. This is the tiny platform that helps you to load and strap your lighter bags to rest behind the axle. For packing smaller items is to go for a motorcycle tail bag.
Use a Saddlebag for Wet/Dirty Clothes
Even if you fold your clothes, the moment your clothes become dirty or wet. You do not want to mix them with your clean clothes! To avoid this issue is to use a saddlebag to put dirty clothes and mix them with detergent powder. This will save your time and grief by taking the whole saddlebag into the Laundromat.
Tips for Packing Lighter
To ensure a safe and enjoyable camping trip, you should refer to the motorcycle camping gear list when planning to pack lighter. Packing your bags may sound easy in theory but tougher in practice. To avoid this hassle is to refer to these points below:
Pack Only What You Need
Depending on the duration of the trip and the number of items to take. You have to think carefully about how many things you want to take on the road. This is simple in theory but tough in practice.
To pack only what you need is to have a good look at the motorcycle camping gear list. And consider the duration and the weather of the trip. You must plan to make a motorcycle camping packing list.
If you plan your trip accordingly, you will get an idea of what items you will need for hassle-free and enjoyable camping.
Research the Weather Ahead of Time
Planning the camping trip involves monitoring the weather patterns throughout the day. There is no point in taking shorts and T-shirts in a chilly place and taking a sweater in a humid area! To avoid this mishap is to monitor the weather patterns and take those clothes that only accommodates that definite climate. The number of clothes you take should accomplish the duration of the trip.
Get Lightweight Backpacking Cookware and Gear
To add a lighter weight for your camping trip is to use the motorcycle camping gear list. To make cooking easier on the camp is to use lightweight backpacking cooking equipment with compact motorcycle camping gear.
Conclusion
Here are the useful tips for a motorcycle camping gear list. You can see preparing for camping on a motorcycle requires planning and preparation to enjoy a trouble-free camping trip.
The tips and the complete list helps you to have all of the essentials ready before you head out on the road. Do make sure you pack safely and have the items you need for your motorcycle camping.
So use the motorcycle camping gear list and enjoy your motorcycle trip!
Read Our Other Articles:

Best motorcycle tail bags
Best sleeping bags for motorcycle camping