Riding motorcycle thrills, but kills!
Riding a motorcycle is a thrilling activity but can be dangerous if you don't take your head precautions seriously.
Not wearing a motorcycle helmet brings severe consequences of head injuries.
No arguable a helmet is the safest headgear as a matter of safety precautions. Headwear plays an essential role in protecting your head from road accidents. This maximizes safety precautions in the future.
With the growing awareness of head safety, wearing motorcycle helmets has saved many lives from accidents and skull injuries. According to the National Highway Traffic Safety Administration, wearing a helmet prevents motorcycle deaths by 37% and about 67% of preventing brain injuries. If you do not wear your helmet on the road, now is the time to think about head protection. Even the lifespan of a helmet can damage the head after the impact. Taking good care of a helmet will enhance your safety measures.
A Complete Guide to Motorcycle Helmets
Depending on the country and city you live in, we abide by traffic rules. These laws involved in wearing motorcycle helmets are mandatory. We bombard with headgears showing unique features and the types of helmets. Motorcycle helmets are more than just striking aesthetics and finishing color. To ensure a safe ride, you must consider certain factors when wearing a helmet.
There are some riders who have little to or no knowledge about helmets at all. Not wearing a helmet would not serve the purpose of protecting your head. If you do not have knowledge about headgear products. Your life depends on your safety concerns. It is your chance to reduce the risk of brain protection and enhance your safety gear.
Why should we wear a helmet?
No questions to raise why a rider needs to wear a helmet! The answer has left nothing but simple, to protect your head from road accidents and injuries. As more people have the option to ride a motorcycle, the awareness of wearing a helmet increases. You already know helmets play a major role in safety precautions.
There are some circumstances where riders compromise the willingness of wearing a helmet. If you are not willing to wear a helmet, chances are your lives of head protection reduce. You will suffer from severe skull and brain injuries. Motorcycles are less stable and more visible to accidents; motorcycles tend to have higher capabilities. Your head is most venerable to severe damage.
Wearing a motorcycle helmet saves millions of lives of motorcyclists. One motorcycle helmet will save you from head collisions and injuries. In various countries and cities, it has become compulsory to wear headwear before riding a motorcycle.
Features of the Safest Motorcycle Helmet
The safest motorcycle helmet has certain features that make it the most securable headgear. These features exist to maximize head protection from collisions and injuries. So what makes a safe headgear product?
Generally, motorcycle headwear has definite features that enhance great safety protection. These features make it the safest headgear to ride a motorcycle.
Outer shell/Exterior
The outer shell is the exterior part of the helmet that you view from the outside. The colour of the helmet is the exterior. In a normal case, the outer shell has a matte or glossy finish. This aids to protect from UV light and preventing scratches. The outer shell consists of many materials like thermoplastic alloy, fibreglass composite, polycarbonate, carbon fiber, Kevlar and moulded plastic. A safe motorcycle helmet must contribute to a lightweight material. The less the weight, the less the burden of your head in long rides.
Impact-absorbing liner
The impact-absorbing liner is the inner part of the helmet. The inner liner has mostly manufactured in Expanded Polystyrene (EPS) foam. This foam absorbs shock and displaces energy in the event of an impact. The outer shell keeps objects from penetrating the helmet and the inner layer keeps the energy of the impact from transmitting to your head. Some impact-absorbing liners have made in dual-density or multi-density foam to add extra energy displacement in an impact.
Padded comfort layer
The padded comfort layer is the layer below the absorbing liner. This is the area where your head rests while wearing the helmet. The padded comfort layer embeds with an open-cell foam where the moisture wicks off to keep it dry and cool. The padded comfort layer is removable and washable to keep it clean and free from dust. Some comfort layer is interchangeable and accommodates different head shapes.
Face shield/Visor
The face shield or visor is the 'sunglasses' part of the helmet. Safety does not only apply to the head, it applies to the eyes as well. The face shield or visor aids to protect the eyes from certain residues such as rain, dust, insects, snow, and many more. Any residues will keep you out of the helmet. Some visors or face shields accommodate all weather conditions while other visors are replaceable to customize the tints. This aids to accumulate in various riding environments.
Cheek pads
This is a common feature in full-face, modular, and open-face helmets. Cheek pads are thin foamy pads that rest against the cheeks. This enables maximizing comfort and provides cheek protection. Cheek pads tend to be removable and washable to accommodate health and hygiene.
Retention system/Chinstrap
The retention system or chinstrap is the helmet's securable feature. This secures below your chin to keep the helmet in place. Some retention system comes with a double D-ring buckle or a metal latch. While other chin straps have been made in woven material.
To secure the helmet in place, the chinstrap must allow only two fingers between the strap and your chin. Some chinstraps have a moisture-wicking function to wick off sweat while resting against your skin.
Ventilation
To prevent claustrophobia, ventilation acquires to keep the rider's head cool and comfortable. This ventilation feature is prevalent in most full face, open face, and modular helmets. Some ventilation system varies from helmet to helmet, depending on the manufacturer. Some headgears have an adjustable ventilation system to adapt to different weather conditions.
Helmet Types
Not all helmets are the same. As there are six types of motorcycle helmets each portraying their shape and the type of riding it serves. Each helmet type is suitable for various types of riders.
Full face helmets are those motorcycle helmets that cover fully the face, chin, and neck. As the name suggests, full face helmets have considered the safest helmet type. The chin bar is the most securable feature that makes it the safest headwear, which other helmet types lack. The chin bar enhances the protection of the jaw and chin from accidents.
Bell Qualifier Full Face Motorcycle helmet
1Storm Motorcycle Bike Full face Mechanic Skull
Full face helmets have worn by various types of riders required for all types of ages. Statistically, full-face helmets tend to give a more peaceful ride compare to other helmet types. This reduces distraction, thanks to the full construction of the helmet.
Full face helmets offer a vast ventilation system to distribute sufficient airflow. Other features of this helmet type include visors, face shields, and interior padding. Full-face helmets tend to be quieter than other helmet types.
1Storm Modular Full face Helmet Flip-up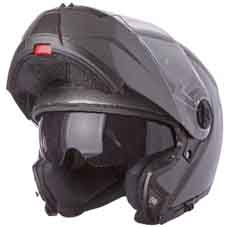 LS2 Strobe Solid Modular motorcycle helmet with sun shield
Modular helmets are a combination of full-face and open face helmets. This helmet type has known for flip-up helmets as the chin bar or faces shield 'flips up to open the helmet. This gives a wider view when not riding. Modular helmets are safe to wear where the rider can choose the full-face or three-quarter mode.
Modular helmets tend to be heavy due to added components. Flip-up helmets are suitable for different riders. This headwear type provides the same head protection as full-face helmets.
Modular helmets tend to be noisy as the chin bar flips up. The flip-up itself does not serve the purpose of motorcycle riding. This helmet type considered the popular headgear as the rider has the ability to eat, drink, and speak without taking off the headwear. This two combination helmet makes a great ride for safe protection and natural ventilation.
Open face helmets are those helmets that cover the top and the sides of your head, leaving the face and eyes exposed. Open face helmets refer to as three-quarter helmets as it covers 'three-quarters' of your head.
Examples: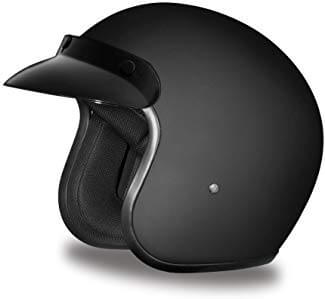 Daytona Helmets motorcycle Open Face helmet
TORC T50 Route 66 ¾ Helmet with Baller Graphic
This helmet type protects the head but leaves concern for the eyes, chin and face. Some open face helmets supply goggles or face shields for enhanced protection. Other helmets require buying eye protection separately. This helmet type is lighter than the full face due to the absence of the chin bar.
In terms of safety, open face helmets do provide head protection and worn by various riders. Open face helmets are easy to operate and tend to have more ventilation due to less restriction of the face and chin.
Off-Road (Dirt Bike, Motocross or MX)
As the name suggests, Off-Road helmets are those helmets that ride off the street. Off-road helmets refer to as Dirt Bike, Motocross or MX as this helmet type is perfect for riding leisure purposes and for the racing track.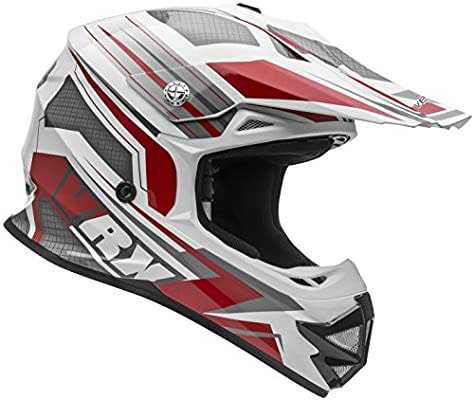 Vega Helmets VRX Advanced Off-Road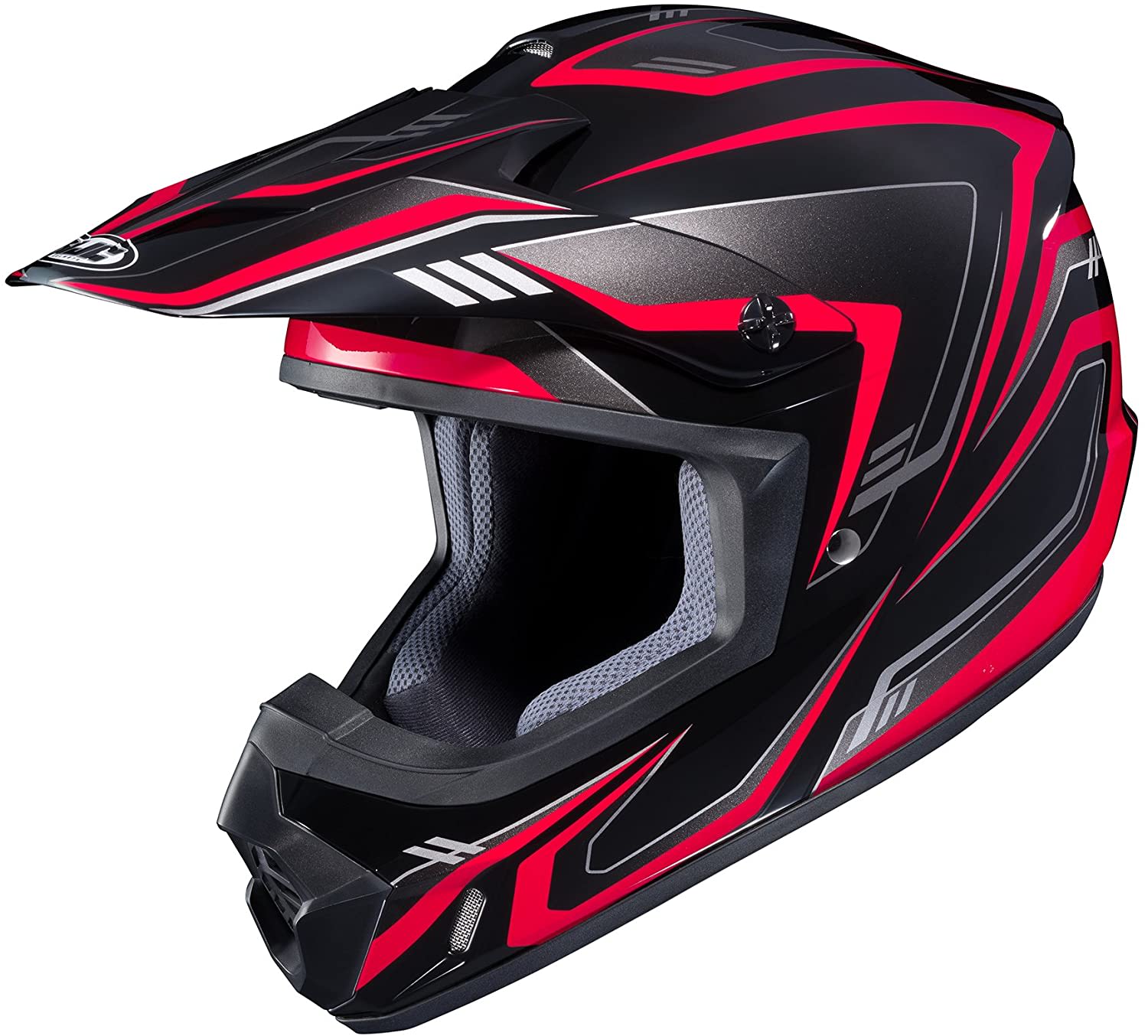 HJC Helmets Unisex-Adult Off-Road Style CS-MX II
Dirt bike helmets do not offer much eye protection but require a pair of goggles. Off-road helmets designed with a wider eye view and an elongated chin bar for enhanced chin protection. The wide eye view gives a wide vision on a speedy ride. The elongated chin bar prevents fatigue and puts less burden on the neck and chin in long routes.
This helmet type is not ideal to ride on simple roads and in the city. The material of this helmet has mostly made in fibreglass composite or carbon fibre. These two main materials keep the strength and make it a lightweight helmet type. They help to reduce fatigue in long rides.
Dual-Sport (Crossover, Hybrid, ADV or Enduro)
Dual-Sport refers to many names such as Crossover, Hybrid, ADV or Enduro. This helmet type is a combination of full face and Off-road helmets. Dual Sport helmets are suitable for riders who want to have a leisure ride with full protection of their faces. Dual Sport helmets designed with a lower chin bar and a larger visor.
ILM Motorcycle Dual Sport Helmet
NENKI Dual Sport Full face motorcycle helmet
With a similar design to a full face helmet, this helmet type has interior padding to require comfort. Dual Sport helmets used for simply riding both on and off the street.
About having large eye protection, Dual Sport uses a pair of goggles similar to Off-Road helmets. Dual Sport helmets have an aerodynamic design to allow a streamlined ride but do not lift the wind like Dirt Bike helmets.
Half Face (Dome or Skull Cap)
Half face helmets have known as Dome or Skull Cap helmets. This helmet type only covers the top part of the head securing with a chinstrap. This leaves the ears and back of the head bare. This helmet type shapes like a 'dome' and offers the least head protection compared to other helmet types.
HJC Solid IS Cruiser Half Shell motorcycle helmet
Daytona Motorcycle Half helmet Skull Cap
Half face helmets are suitable for riders who want natural ventilation without suffocated in full coverage headgear. Some half helmets equip with visors while others require buying eye protection separately. Half face helmets have minimal features that do not have extra functions added to them. Some half face helmets supply visors or face shields to protect your eyes from residues.
Dome helmets are suitable for riding from moderate to warmer conditions and considers the least popular headwear. This helmet type is wearable without compromising safety as half face helmets provide natural ventilation.
How to Choose a Motorcycle Helmet?
Choosing the right motorcycle helmet is a daunting process as there are so many factors to consider. Wearing the wrong headwear would not serve the purpose of protecting your head from accidents.
When trying on the best helmet, you are not only figuring out your head size and striking graphic. You are looking for an ideal headgear, which serves the purpose of protecting your head in the event of an impact.
For simple instructions, choose the right helmet mentions below:
Choose a suitable helmet type
Determine your head shape and size
Try on the helmet
Check for proper fit
Wear the helmet for about half an hour
With simple instructions, there are three main things to consider when choosing the right headgear product:
Helmet types
Head shape
Helmet size
The systematic instructions explain further below:
Choose a suitable helmet type
Helmet types
As mentioned earlier, there are six types of motorcycle helmets to choose from. Each helmet type serves the purpose of head coverage and represents its pros and cons. Choosing a suitable helmet type will enable you to surpass a safe ride.
These helmet types will help you to choose which helmet serves how much coverage you want. Keep in mind, safety comes as the main precaution when looking for suitable headgear.
Each helmet type has its pros and cons which explains below:
Full face
Pros
Provides a chin bar
Built-in face shield
Quieter
Cons
Difficult to operate
Uncomfortable if not fitted properly
Feeling of suffocation
Open Face
Pros
More ventilation
Easy to Operate
Less restrictive
Cons
No face and eye protection
Concern for chin protection
Modular
Pros
Chin bar opens
Easy on/off functions
Less restrictive in open face mode
Cons
Heavy
Noisy
Chin bar may fail
Dual Sport
Pros
Comfortable to wear
Quiet
Usable with goggles
Safe on & off roads
Cons
Heavier
Less ventilation
The peak may cause a lift
Off-Road
Pros
More ventilated
Lightweight
Easy to clean
Cons
No face protection
The peak may cause a lift
Half face
Pros
More ventilation on the sides and back of the head
Lightweight
Easy to wear and take off
Cons
No face and eye protection
Only protects the top of the head
2. Determine your head shape and size
Head shape
The head shape is very important as riders are born with different head dimensions, which vary from brand to brand. Men and women have different dimensions of head sizes that change, as they grow older.
When considering your head shape, all helmets look identical from the outside. If you look carefully, each internal helmet has its own shape which fits a certain head shape. Each shape mentions below:
Round oval
This head shape is where the sides of the head are wider than the width of the head. Normally, this head shape is like a circle where the width of the head is shorter. The round oval head shape tends to have a wider room at the sides of the head.
Intermediate oval
This head shape is where the front and back of the head is a little longer and the sides of the head are narrower. The intermediate oval head shape is like an ellipse with the sides of the head slightly squished.
Long oval
As the name suggests, the front and back of the head are much longer and the sides of the temple are much narrower than the intermediate oval. You can imagine this head shape as a long and narrow oval.
Helmet size
Taking a head size is very crucial all you have to do is simply take a measuring tape and measure around your head. Starting from the inch above the eyebrows down to just a couple of inches above your neck. This will give you your head size.
You need to be careful with your head size as different helmet manufacturers have a different head size charts. Do not follow the same head size chart with a different helmet brand. This would result in the wrong helmet size. To do this procedure accurately is to ask a trusted person to take your head size.
3. Try on the helmet
The correct helmet size should fit snugly onto your head and the helmet should rest against your forehead. If a helmet has cheek pads, the pads should fit snugly onto the cheeks without feeling squashed. If the helmet has a ventilation channel, the ventilation must distribute an adequate amount of cool airflow. This will prevent suffocation and claustrophobic.
4. Check for Proper Fit
For proper checking, the retention system of the helmet should fit no more than two fingers. The helmet should feel neither tight nor loose. If this is the case with your helmet, your helmet size is wrong.
The retention system should not feel the skin irritated or too tight. If you face skin irritation, you need to try different helmets. Concerning the interior padding, the cushion should touch against your cheeks. The cushion will push up like 'chipmunk cheeks. This feature does not apply to open face helmets.
The chin bar must close and try to move it around a bit. Your cheeks should move rather than the helmet itself. If you feel it is a little bit tight, try to keep in mind most liners break in for about 15-20% after 15-20 hours of riding.
5. Wear the helmet for about half an hour
To get your head used to the comfort zone of the helmet, leave the headwear on for about 15 to 30 minutes. If you feel pain or discomfort on the forehead and temples, this helmet is not right for you. This will create excruciating pain after a three-hour ride. If there is a red line across your forehead after removing the helmet, the headwear is not long oval. If your helmet squeezes your temple, the helmet is not round enough. Keep in mind this half-hour process should spend off the motorcycle.
Never wear the helmet just before riding. This will create disillusion when starting to switch on the engine of your motorcycle. For more information about helmet size and fit, click on the video.
Tips & Guides for a Motorcycle Helmet
There are useful tips and guides when looking for the best motorcycle helmets. If you are shopping for headgear, there are some useful guides to consider when searching for ideal motorcycle helmets for sale. Whether a beginner or a professional rider, helmets will always consider a safe headgear product.
The tips and guides mentions below:
Legal safety standards
Each helmet carries a legal safety standard. Depending on the country and city you live in, a legal safety standard sticker must require when purchasing a helmet. Generally, there are three main safety standards of a helmet that are DOT, Snell and ECE. These three safety standards contribute to approved headwear to ride on the road.
You can use a helmet that exceeds a different safety standard such as SHARP for the UK, AS for Australia and NZS for New Zealand. When looking for a helmet, make sure you keep an eye on either one of these main legal safety approval stamps.
Head shape and size
Head shape and size is the main thing to consider when looking for ideal headwear. The safest helmet does not have a 'one size fits all' strategy as each helmet accommodates a certain head shape. To get an accurate head size is to take a measuring tape and measure above the eyebrows down to the midway of the head. Just several inches above the neck.
Be sure not all helmets brands follow the same head size chart. This will result in inaccurate head size. Do take care when obtaining your head size and shape.
Helmet types
Every rider has buying preferences when looking for suitable headgear. Do make sure your helmet type influences the type of rider you are. If you are looking for headwear for commuting to work, full face or modular is the best option. For speedy and dangerous rider, go for an Off-Road. If you are a commuter and an off the street rider, Dual Sport is the best choice.
Type and length of riding
The type and length of the ride come into consideration. For a commuter who requires the ongoing durability of the helmet, an ideal headwear must accommodate longer rides. This ideal headwear refers to full face or modular. Full face helmets consider the best beginner motorcycle helmet. For leisure purposes, a shorter dirt bike helmet is the preferable headgear.
Price
Price comes into consideration when looking for a suitable helmet. However, price should not compromise safety and head protection. Your safety depends on your spending pattern; you do not want to end up buying a helmet that ends up in the trash! If you are a beginner and looking for a helmet, start with the most reasonable price. Once your helmet fits and your understanding develops, go for a higher price.
Weight
The weight of the helmet plays a vital role in the headgear market. A safe helmet must be lightweight enough to hold the head and neck in long rides. The helmet must accumulate to the weight of your head. There are certain materials that contribute to lightweight headwear. These materials include polycarbonate, thermoplastic alloy shell, fibreglass composite, Kevlar and carbon fibre. A preferable material for a helmet is either polycarbonate or thermoplastic alloy shell.
Extra features
There could not be any more fun of motorcycling activity than having a helmet with extra features! Some motorcycle helmets embed with extra features such as Bluetooth, string bag, neck scarf, a pair of gloves and many more. These extra features will come in handy in other conditions and other riding purposes. Make sure you do check out helmets with extra features.
Climate & weather conditions
Weather and climate conditions must monitor carefully before embarking onto the motorcycle. A good helmet should accommodate all weather conditions. This depends on the length and the kind of rider you are. If you commute to work, choose suitable headwear that works in all weather conditions. For leisure riders, the weather pattern is not much concern but a helmet should adapt to changing climatic patterns.
Eye protection
Having good eye protection is very essential. Almost each helmet type has visors whether attached or supplied. Other helmet types such as open face, crossover and dirt bike require a pair of goggles. Some eye protection has a range of visors to change according to the environment. To enhance your eye protection, look for a helmet that supplies a range of visors according to weather conditions and must be replaceable without the use of tools. Keep in mind, the visor must function to protect from scratch and UV light.
Interior
For maximum comfort, a helmet must have thick and good quality interior foam. The interior serves the purpose of protecting your head in an event of an impact. The majority of the helmets have made in Expanded Polystyrene (EPS); this material allows a great impact for maximum comfort and head protection. Most interior helmets have a removable and washable liner, this aids to keep them clean and free from debris. I suggest you go for a helmet that has a removable and washable interior.
Retention system
The retention system is the helmet's biggest security. You do not want your helmet to come off during the ride! A retention system exists to secure and remove the helmet conveniently, even with gloved hands. The retention system can come up with a chinstrap or a double D-ring buckle. This biggest security applies to each helmet type. Depending on the rider you are, do look for a helmet with a firm retention system.
Exterior
The exterior of the helmet plays an important role in head protection. A good headgear product must have the protection of prolonged sunlight and other harsh conditions. The exterior of the helmet must not fade or distress the aesthetic. As this will damage and leave ugly marks and scratches.
To protect the exterior from fading and scratches, do keep the helmet in a cool and dry place. Even better, do clean the exterior with a cloth and carry your helmet in a helmet bag. This will give you better protection from impacts.
Warranty
Most motorcycle helmets last from one to five years of warranty. If you want your headwear to have a durable product, buy one that has a longer warranty. As new inventions of features add to helmets, the durability of the product increases.
Do search for headgear from a well-reputable manufacturer; you will get a longer product warranty. Helmet manufacturers work hard to add new and technological features for long-lasting head protection.
When to Replace your Motorcycle Helmet?
Like any other form of product, motorcycle helmets do not last long, unless you take good care of them. Even the most recognized brands require updating the latest motorcycle helmets. There are times when frequent use of motorcycle helmets needs a replacement.
So how I can tell when my helmet needs a replacement? The answer is there are definite signs, which you need to look at when your helmet ends.
The signs mention below:
Helmet age
When did you buy your helmet? How long does your helmet last? These two questions must have something in your mind when purchasing headwear. Good and safe helmets last about 3-5 years of warranty. If your helmet has a shorter product life cycle, it is time to have a replacement.
If your helmet has damaged or tears off easily after first use. It is a sign of buying a new one. Because of the frequent head use while riding. The helmet exposes to weather, dirt, UV rays and other elements, which weakens the headwear. If your helmet has damaged, you need to replace it with a new gear.
Usage
If you are a simple commuter, you have worn the helmet frequently. Put simply, if you wear your helmet on a daily, the product loses its function of head protection. This becomes the exposure of wear and tear. Consistent helmet use weakens the function of the product over time.
When comparing riding a bike to driving a car, the miles stack up over time. You need to buy a new helmet or maintain your current headgear.
Involvement in an accident
Have you ever knocked down by a vehicle? If your answer is a yes then you need to check your helmet after the accident. Once you have met an accident with another vehicle, the helmet becomes damaged. The headwear would not perform the same function as before. Wearing a broken helmet would not do any good for head protection. The best thing to do is to look for new protective headgear.
Helmet becomes loose
When you wear the right helmet size, the headgear fits snugly onto your head. If you shake or nod, the helmet sticks to your head like glue. Your helmet only comes loose if the headwear moves while shaking. The cheek pads have become compacted. This is the sign of replacing a new helmet.
Interior starts to wear off
The interior of the helmet wears off first after frequent use. If the interior covered in flakes and grease, I suggest you need a replacement of a new helmet. The reason behind it is that the EPS liner would form cracks after wearing. If this happens, the EPS liner is weak and starts to deteriorate. This would not be able to absorb the impact effectively. Be careful with the hair products you use, as this would react to the interior of the helmet.
Exterior starts deteriorating
If the outer shell forms cracks and begins to fall apart. It is time to replace a new one. The outer shell is the first contact during an accident. This part of the helmet must be strong and durable enough. Any cracks forming on the outer shell will expose you to severe head damage if you are in an accident. If your helmet has met a crash and faced the exterior weakens, do replace your helmet!
Strap or lock failure
An occasional helmet used with strap locks around it may corrode due to weather changes and dirt. The chinstrap is the helmet's most securable feature as it helps to secure the helmet in place. This maximizes chin and jaw protection. If the chinstraps do not work, it is time to replace a new one or find another replacement.
Conclusion
Overall, motorcycle helmets play an important role in showing good headgear while maintaining safe head protection. Wearing headwear would save millions of lives from severe head injuries. Wearing a helmet is mandatory for head survival. One ignorance of not wearing a helmet will reduce the chances of head safety.
To broaden the understanding of helmets, a safe motorcycle helmet has certain features that make a safe headgear. As not all helmets are the same, six helmet types serve different riding designs for different types of riders. Choosing a suitable headgear has simple instructions that head shape and helmet types are the main factors to consider.
For better planning of looking for an ideal helmet, the buying guides provide to consider the factors when shopping for the right headwear. Along with guides came the replacement tips on how to care for your motorcycle helmet. Whether a beginner or a professional, motorcycle helmets will always be in the best condition if you take proper care. Good care of your helmet will last forever. So do not forget to check faults when wearing on a daily basis.
Your brain is the number one priority of head survival; never hinder your choices of motorcycle helmets. In the future, your head protection is a part of safety precautions.
So do not forget to wear a motorcycle helmet before embarking on your motorcycle!