Dealing with a punctured tire is the most common issue many riders face on the road.
With the increasing number of frequent rides and maintenance of tires, riders ask this common question: Can you plug a motorcycle tire?
This question is something that depends on the type of tire you ride. To expand on the debate can you plug a motorcycle tire depends on the condition of the tires.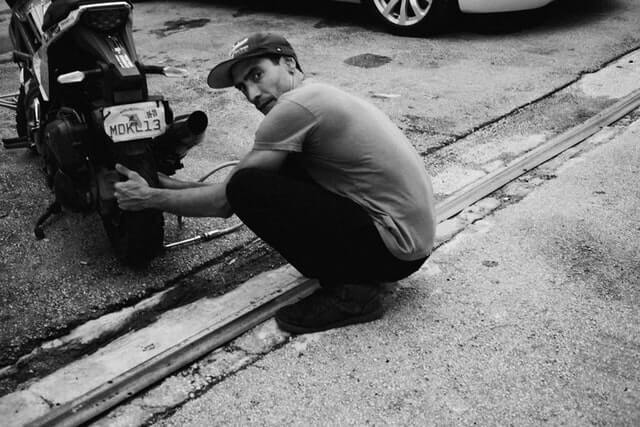 Is It Safe to Plug a Motorcycle Tire?
Repairing a motorcycle tire requires a few tools to fix a patched tire.
It is safe to ride on a plugged tire but only for a limited distance.
However, for long-term purposes, the answer is no.
A motorcycle tire plug is a means of a temporary solution rather than a permanent repair.
Can you plug a motorcycle tire?
Riders have their opinion about fixing a punctured tire. Some riders say that it depends on the plug you use, the terrain and how well you install. When riding on tougher terrains, the tire wears off after frequent rides. The plug you use affects your ride and how well you install it. For instance, if you have not plugged your tire accordingly, chances are you are at greater risk of suffering a fatal road accident.
To plug a motorcycle tire safely depends on whether your tire is tubed or non-tubed. Can you plug a motorcycle tire? Most of the time you can but plugging motorcycle tire is not generally a permanent solution as motorcycle tires last only about 5000-15,000 miles.
Types of Tire Plugs
To ensure long-lasting durability of a motorcycle tire, three types of tire plugs, which are self-vulcanizing, string with rubber cement and mushroom plugs.
These three types of tire plugs will help you to know about motorcycle tire plugging.
Each type of tire plug explains below:
Self- vulcanizing
Self-vulcanizing refers to as strings, sticky strings, snot strings or worms. This type of tire plug works by using a strip of rubber material coated with a glue that creates a chemical reaction when placed in the punctured hole.
Vulcanization is a process where two rubber materials create chains or cross-links to bind the two pieces together. You can imagine a plugged motorcycle tire with the rubber plug and the rubber of tire becoming one material. This is an effective material to use for tire plugs.
String with rubber cement
Tires are normally made of rubber but are not often self-vulcanizing. Tire repair kits that come with this type of tire plug will come with a tube of cement.
To go for this type of tire plug is to apply the cement to the rubber strip before inserting into the tire. Then wait for the cement to dry completely before hitting on the road. This process should take about 15 minutes.
Mushroom plugs
A mushroom plug is a rubber shaft that shapes like a mushroom. Many riders refer to this type of tire plug as Shop and Go plugs. The tip of the mushroom plug goes inside the tire creating the better seal around the puncture hole from the inside. This reduces the chances of steel wall fraying at the sides of the puncture.
Can you plug a motorcycle tire with mushroom plugs? Plugging a tire with mushroom plugs are good enough to ride but not considered as a long-term permanent fix. You should get your tire replaced.
How to Plug a Motorcycle Tire?
Plugging a motorcycle tire acquires some tool kits to fix your motorcycle tire. In motorcycles, you need to know whether your tire is tubed or non-tubed. Many riders asked: is it safe to patch a motorcycle tire? It is safe to patch a tire. So how can I plug a motorcycle tire, you need some equipment, which is:
Plugs (strings, sticky strings, worms etc.)
T-shaped tire reamer
T-handle plugger
A small amount of rubber cement
A pair of pliers
An air compressor
A knife
To plug your motorcycle tire, you need to follow either one of these methods below:
Method 1: Plugging a Non-Tubed Tire
Plugging a tubeless tire is the easiest solution to repair a hole in the tire. Just plug the hole in the tire and you are ready to hit the road.
To begin a screw-in motorcycle tire is to use a tire plugging tool kit. To inflate the tire is to pull the object out using a pair of pliers if there is any object that was stuck in the motorcycle tire.
Use a reamer to enlarge and clean the hole. You have to use a T-shaped handle that helps with making the hole bigger. Take some time if the tire has steel belts.
Use a string or a worm on the insertion tool. Note that the tip of the worm splits to allow the tool to pull free of the string once it is well inside the hole.
Put some rubber cement on the worm and a blob on the hole too. Then slowly insert the string about two-thirds of the way. If it falls inside the tire, begin with the new string.
Gently pull the insertion tool leaving the worm in the tire. Use a T-shaped handle to fit the worm with the rubber cement.
Use a knife to cut the plug flush with the tread surface. Give it a few minutes to set up and inflate the tire using an air compressor.
Then spray some water on the plug to make sure the tire is holding air.
Method 2: Plugging a Tubed Tire
Plugging a tubed tire is tougher than a non-tubed tire as it requires replacement and needs to patch the tire. So can you patch a motorcycle tire, certainly you can! If your motorcycle has a tubed tire, follow the procedure below:
Remove your tire from the wheel.
Then patch your tire by referring to the first method or by clicking on this link.
If patching your tire does not work, use an air compressor.
Put your tire back on the motorcycle.
Tips for Monitoring your Fixed Tire
After plugging your punctured tire, it is important to monitor your fixed tire, as plugged tires are only a temporary solution. To ensure a safe ride after patching your tire. You need to follow these important tips:
– Do check your fixed tire after 10 miles, then 50 miles and then check again after 100 miles. Check your tire gradually after each ride.
– Check your tire the next morning to see if the plugged tire lasts overnight. If its past across 500 miles and the tire showed no signs of leaks or movement around the edges, then you can decide to ride on or get it replaced.
– If you want to keep the tire with a plug, make sure you check that tire regularly and be diligent about losing air, wearing out or any suspicious around the plug. This is where you have to replace the tire.
– To plug the tire safely is to use a tire tool kit and refer to the procedure above.
– If you are a new rider and experienced a flat tire, just have a word with the repairperson and take some advice when planning to plug a tire.
– When planning to patch a tire, always purchase a repair tool kit that accommodates to your type of tire.
– After plugging the tire, make sure you take precautions on motorcycle tire plug safety.
The durability of the Plugged Tire
Can you plug a motorcycle tire? You already know the answer that you can plug your motorcycle tire for a temporary solution. However, the durability of the plugged tire depends on how well you fixed the punctured tire.
For instance, if you plugged the tire with great responsibility, you will expect the tire to last long. Some plugs even last the remaining tread life of your tire.
If you have plugged the tire as a quick fix, the plugged tire will last about 100 miles. To get the tire fixed permanently is to seek a professional repair person. If you do not want to take the risk of riding on a plugged tire, you can replace the tire.
Conclusion
Many riders face flat tires in their lives and they asked this question: can you plug a motorcycle tire? The answer is a yes and you can plug the tire but only for a few miles. To avoid risking your lives is to consider how well you install the plug and the terrain you ride.
So can you plug a motorcycle tire by yourself? You can fix the tire by referring to the methods above. Fixing the tire requires a few tools and a bit of strength to follow the tips to ensure a safe ride after plugging the tire. The point is that you will get another flat tire during your ride and for a permanent solution is to replace a tire.
So plug your motorcycle tire and have a safe ride!
Read More:

Winter Motorcycle Tires

How to Stop Helmet Visor Fogging

How to Choose a Motorcycle Helmet